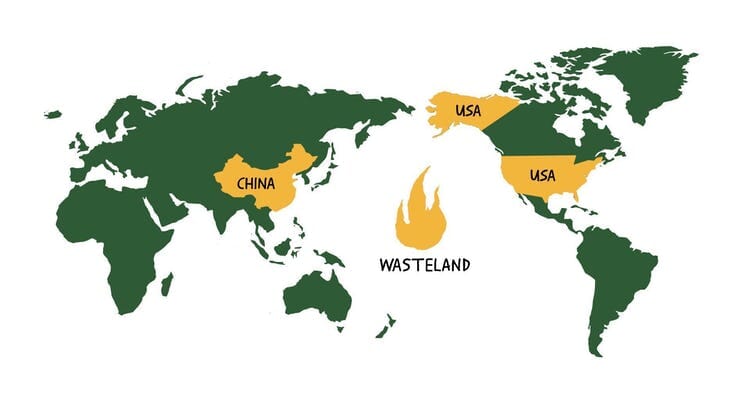 Blog
Oddbox And Women's Aid
This month we look at two campaigns that tackle issues head-on, and scrutinise another that launches a new chocolate bar.
Oddbox
To mark UN International Day of Awareness of Food Loss and Waste, Oddbox, the subscription service delivering 'too big', 'too small', or 'too wonky' fruit and veg straight to consumer's doors, applied for its 'newly founded country', Wasteland, to become a member state of the UN.
The campaign highlights that if Wasteland was a real country, it would be the third biggest emitter of emissions in the world, behind the USA and China. Despite this, food waste does not appear on the agenda at COP26.
Why we like it: The campaign perfectly personifies the brand's mission to eliminate food waste by making a bold statement to raise awareness. The concept of 'Wasteland' illustrates the extent of the problem in a shocking but clear way, so the 55 percent of consumers that didn't realise the emissions consequence of food waste until now, could easily get their head around the mission and get on board.
Women's Aid
Women's Aid, the British charity on a mission to end domestic violence, has subverted fashion advertising tropes in its latest campaign to raise awareness for coercive control in relationships. The campaign seeks to highlight the pattern of behaviour that is often tricky to identify but can be just as detrimental as physical violence. The 'Not Model's Own' campaign targets 16–34-year-old women and features ads with models whose clothing has been selected by her partner. The captions read: "Skirt—by model's partner; Hair—by model's partner; Make-up—by model's partner; Anxiety—by model's partner; Isolation—by model's partner; Insecurities—by model's partner."
The ads also include direct lines to help and guidance for those who recognise similar patterns within their own relationships.
Why we like it: The campaign takes a familiar concept, fashion adverts, and tactically alters them to raise awareness of behaviour that may seem familiar but is often hard to recognise as abusive. The message is understated, but powerful.
Cadbury
Cadbury recently announced that it is launching its first line of vegan chocolate bars which use almond paste in place of dairy milk. To announce the product, the company released an apology letter addressed to 'plant-based Britain' with the messaging 'Sorry it's taken so long', confusing many as one of its bars is already considered vegan!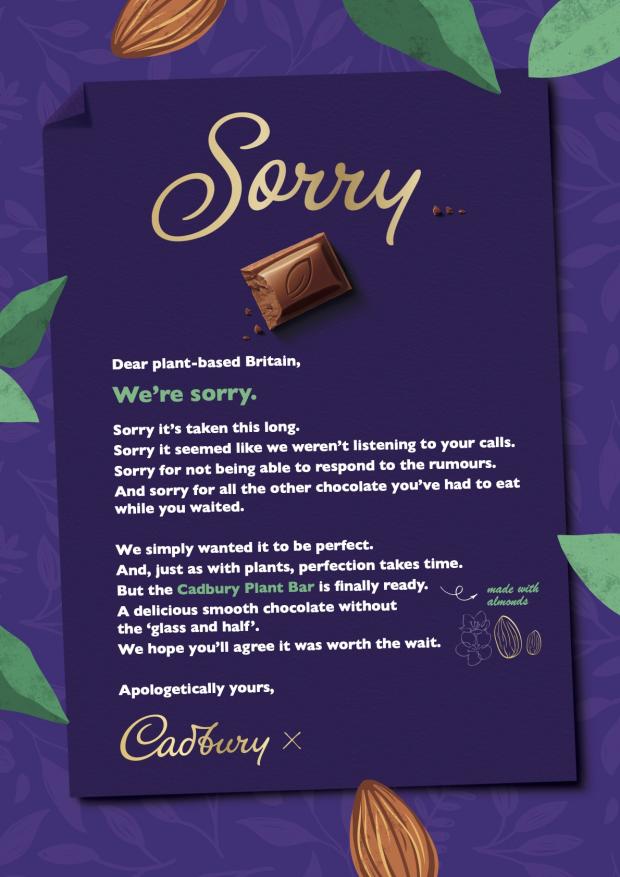 What to learn: Whilst its great news for the plant-based community that they will soon be able to enjoy Cadbury chocolate once again, it's worth highlighting that the company's traditional Bourneville dark chocolate bar was often considered vegan, as milk was not listed as an ingredient, until recently. The company updated the ingredients list in 2021 to include milk, which begs the question for many vegans whether this was done purposefully ahead of the launch of the new plant-based chocolate bar.