The Challenge
Easyfairs, one of the world's leading event organisers, wanted to increase engagement before, during and after its inaugural AntwerpXL event, which focussed on the niche breakbulk industry. It was important to capture the attention of existing and potential exhibitors, conference speakers and visitors, plus key industry media.
Our Strategy
In order to drive engagement amongst the event's target audience, we decided to launch a focussed, targeted and measurable social media campaign across AntwerpXL's social media channels – Facebook, Twitter, Instagram, LinkedIn and YouTube.
Before launching the campaign, we identified key performance indicators (KPI's) tailored to each channel which included average weekly engagement rate, page views, reach and impressions.
The campaign ran for five weeks; two weeks prior to the event, the week during, and two weeks after. This was to build excitement ahead of the show, engage with exhibitors, conference speakers and visitors during, and continue momentum when the show was over.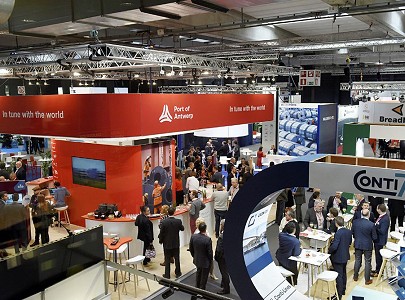 How We Helped
A social media campaign calendar implemented the strategy with regular posts for all social media channels. This included a mix of content to keep the AntwerpXL brand in front of industry professionals at a key time for the show. Key elements of the calendar included:
Speaker Interviews and Social Media Graphics
AntwerpXL's key conference speakers were interviewed about their sessions to gain soundbites which were then implemented across social media. Visuals designed in-house promoted the sessions and built excitement amongst the event's attendees. Speakers were tagged to encourage them to share posts with their own network – an audience likely to be interested in AntwerpXL. Each visual also linked to a full interview, written-up and hosted on the AntwerpXL website, to drive additional traffic.
Exhibitor Generated Content
AntwerpXL's exhibitors were involved in the social media strategy to give them added value as part of the exhibitor package. News of exhibitor launches at the event was shared, tagging the exhibitor brand to increase engagement.
International Media Generated Content
Media coverage, secured in leading trade magazines as part of our press office activity, was shared to capture the interest of the industry. All titles were tagged when doing this to encourage interactions with journalists and build deeper relationships with the global media.
Follower Generated Content
Polls and surveys conducted with followers allowed us to gain valuable insights and encourage follower engagement. The results were then shared on social media to reflect the industry's attitudes to its biggest opportunities and challenges.
On the Show Floor
Updates from the show floor were posted in real time. Video interviews with speakers, images and opinions sourced on the event's keynote sessions, made up the content. This led to excellent engagement rates; a factor enhanced as we responded to all posts about AntwerpXL shared by exhibitors and visitors.