The Challenge
Local bus operator, Stagecoach West, tasked us with promoting bus travel as a convenient alternative to driving during the busy festive period, whilst establishing the company as a positive force in the Gloucestershire community.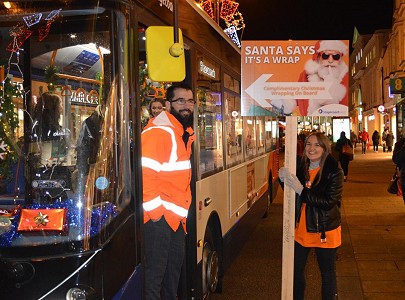 How We Helped
It was crucial that our activity demonstrated the important role that Stagecoach plays in the community, and its commitment to supporting local residents throughout their day-to-day lives. With this in mind, we devised a community engagement event that would allow the company to engage face-to-face with hundreds of locals, whilst offering a helping hand during one of the most stressful periods of the year.
Our 'It's a Wrap' campaign saw us parking a grotto-themed bus in the middle of Cheltenham High Street on the first Thursday in December. The event coincided with Cheltenham's late night shopping event which sees thousands of consumers flocking to the High Street for the opportunity to browse the shops out of hours, as well as bag themselves festive-freebies and enjoy the in-store entertainment on offer throughout the town.
Hosted by Energy PR and volunteers from the Stagecoach West team, members of the public were invited to climb aboard the festive-themed bus and have their Christmas shopping wrapped free of charge, helping them to tick one thing off their to-do list. In addition to the complimentary wrapping, Stagecoach's festive volunteers stood outside the bus handing out chocolates and encouraging passers-by to make the most of the free service. This maximised the opportunity to engage with new and existing customers, whilst showcasing the company's personality and community spirit.
We chose to use one of the 14 high-spec new buses that had recently been introduced to Stagecoach's fleet for the activity, offering an opportunity to showcase the state-of-the-art new vehicles to thousands of local residents, many of whom may not have considered boarding the bus in normal circumstances.